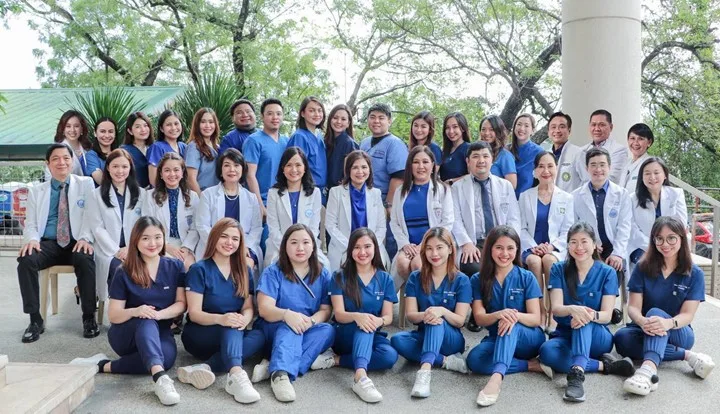 About Us
Vision
To become a national end referral facility with a high level of expertise in clinical services, teaching and training, and research largely focusing on leprosy and other infectious dermatologic and tropical diseases by 2028 in congruence with the strategic directions of the mother institution.
Mission
The Research Institute for Tropical Medicine Department of Dermatology, as an apex or end referral facility is committed to provide advanced comprehensive clinical services; serves as a facility for specialty and subspecialty training; and capable of conducting multi-center clinical, public health, and operations research at the sub national or regional level.
Core Values
Commitment

We are committed in providing a holistic training program and to produce competent and devoted leaders among our consultant staff and residents.

Compassion

We aim to extend unconditional services to our less fortunate brothers in the community.

Professionalism

We commit to deliver quality dermatological health care services through training and research in the various sub specialization in dermatology.

Collaboration

We work with other PDS institutions, hospitals, communities and government agencies and institutions to provide excellent dermatologic health care.
HISTORY
The RITM section of Dermatology was established in 1992 with Dr. Gertrude Chan as its founding Chairperson, Dr. Ma. Teresita Gabriel as RTO and Dr. Ma. Luisa Venida as consultant. The program was eventually given full accreditation by the Philippine Society of Cutaneous Medicine (PSCM) in 1993.
In its early years, the dermatology outpatient department shared an office, conference room and laboratory with the RITM Infectious Research division. At that time clinics are held three times with the rest of the week used for didactics, grand rounds and dermatopathology reading. The section eventually was given a separate building in 2002 to accommodate the number of patients and improve the services that it provides. OPD consultation then became daily. The Section became a Department in 2011. Over the years, the number of patients increased and currently, 100-150 patients are seen daily at the Dermatology OPD. The Dermatology Department is the national referral hub for leprosy and is in close coordination and communication with the National Leprosy Control Program, DOH for its various activity and researches on leprosy.
Facilities/Services Available
Diagnostics
KOH smear
Wound Gram Stain & Culture and Sensitivity
TB culture
Fungal Culture
Tzanck Smear
PCR
Acid Fast Smear (AFS) / Slit Skin Smear (SSS)
Wood's Lamp Examination
Dermoscopy
Dermatopathology Reading
ELISA (BP 180, BP 230, Dsg1, Dsg 3)
Direct Immunofluorescence (IgG, IgM, IgA, C3, Fibrinogen)
Patch Testing
Procedures
Cosmetic Dermatology

Intralesional Steroid Injection

Dermatologic Surgery, Lasers, and Energy Based Devices

Biopsy (Skin Punch, Shave, Excision)

Excision of benign and malignant cutaneous tumors

Extraction of milia and molluscum lesions

Electrodessication and Curettage

Phototherapy

Narrowband and Broadband UVB Phototherapy

Targeted Narrowband UVB Phototherapy
RITM Clubs
Hansen's Disease Club
Psoriasis Club
Bullous Club
Atopic Club
Major Activities
Weekly Conferences
Examinations
Research Hour
Journal Club
Kodachrome
Clinicopathologic Conference
Dermatopathology Slide Readings and Lectures
Hair and Nail Lectures
Dermoscopy Lectures
Pediatric Dermatology Lectures
Cosmetic Dermatology/Laser Procedures
Dermatologic Surgery Workshop
Sexually Transmitted Diseases Lectures
Vesiculobullous and Immunodermatology Lectures
Community Dermatology and Medical Missions
Hansen's Disease and Common Skin Diseases Workshop
Organizational Chart
Consultant staff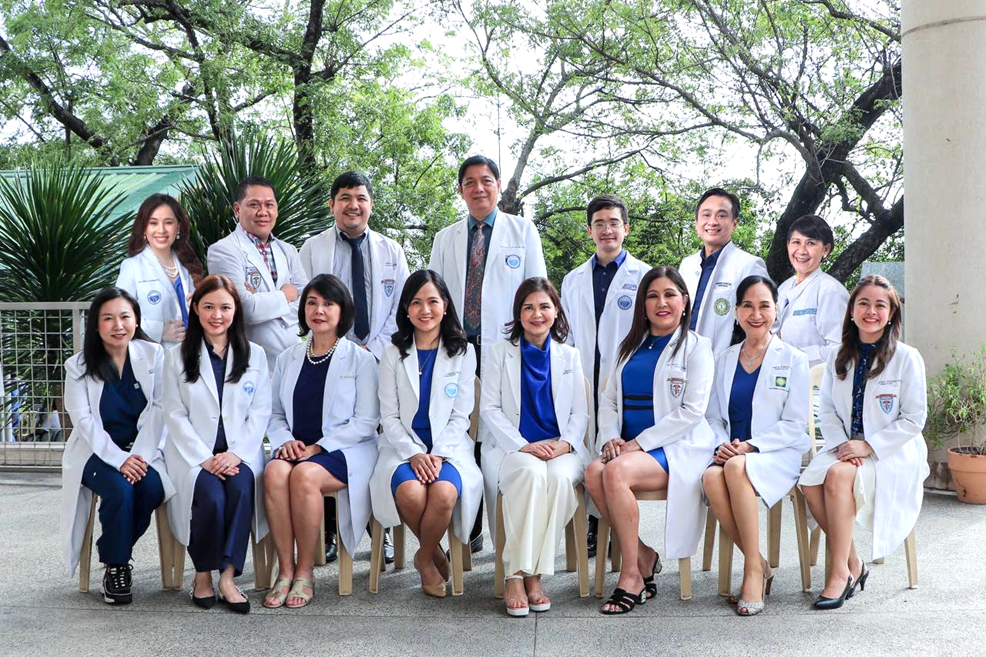 resident staff
third year residents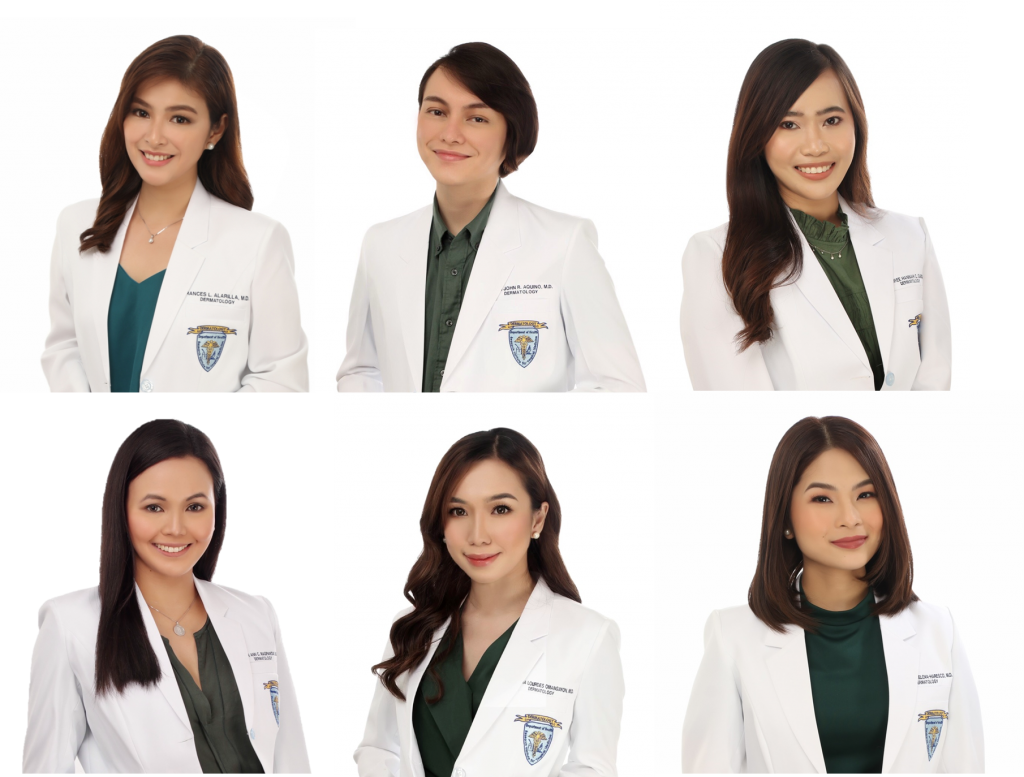 Frances Beatrice L. Alarilla, MD
Erwin John R. Aquino, MD
Ma. Desiree Hannah C. Garcia, MD
Loren Ann Cole C. Magpantay, MD
Ma. Fatima Lourdes Omangayon, MD
Ma. Bianca Therese Relova-Haresco, MD
second year residents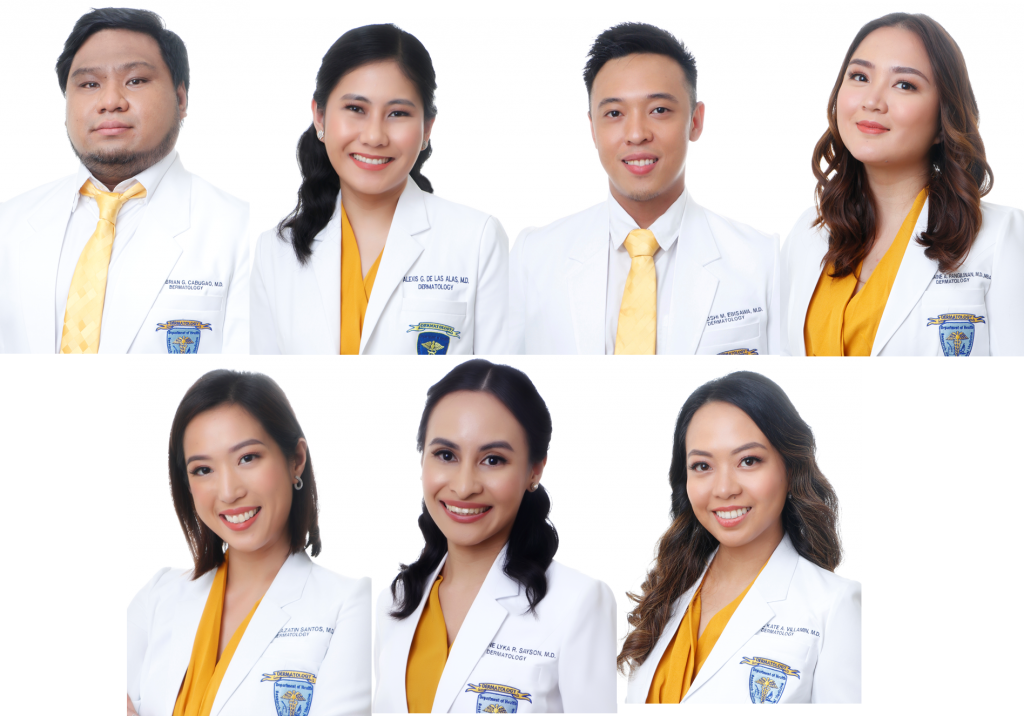 Daniel Brian G. Cabugao, MD
Alexis G. De las Alas, MD
Nagatoshi M. Ebisawa, MD
Angeli Elaine A. Pangilinan, MD
Danelle Anne L. Santos, MD
Christine Lyka R. Sayson, MD
Mary Rae Kate A. Villamin, MD
first year residents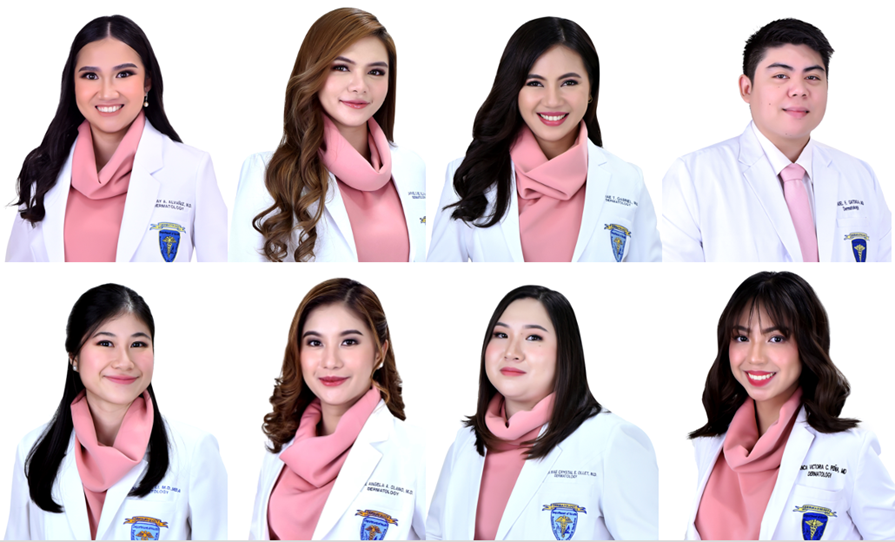 Anne Fay A. Alvañiz, MD
Majarael O. Del Villar, MD
Rio Mae T. Gabriel, MD
Emanuel F. Gatdula, MD
Jennifer C. Li, MD
Krystel Angela A. Olano, MD
Anikka Mae Crystal E. Ollet, MD
Bianca Victoria C. Peña, MD
Resident Program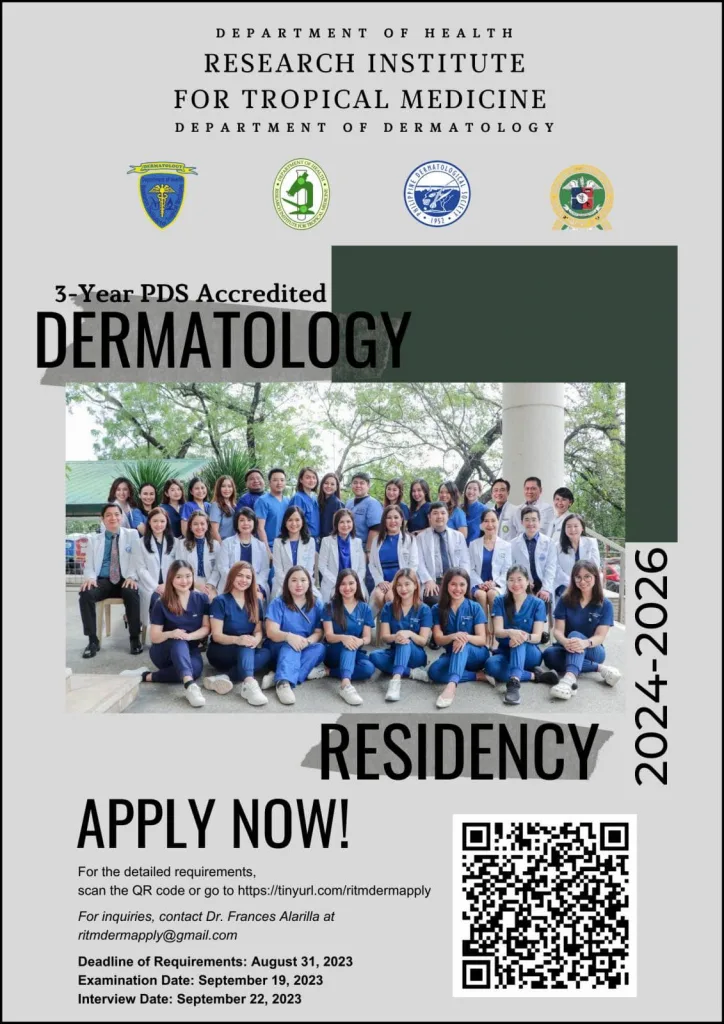 REQUIREMENTS FOR APPLICATION FOR
3-YEAR RESIDENCY TRAINING IN DERMATOLOGY
The Research Institute for Tropical Medicine's Dermatology Residency Program has produced 164 graduates as of 2022.
The Dermatology Training Program of the Research Institute for Tropical Medicine, which began in 1993, is an accredited general dermatology training program by the Philippine Dermatological Society. The Research Institute for Tropical Medicine, being a National Specialty Center for Infectious Disease and Tropical Medicine, rotates the residents in the Adult and Pediatric Infectious Disease wards, as well as the HIV and Animal Bite Clinics. It is also designated as an Advanced Comprehensive Dermatology Center by the Department of Health. We invite doctors from the provinces to train with us in order to give back and serve the underprivileged in their respective hometowns.
REQUIREMENTS:
Letter of application addressed to:
LEILANI R. SENADOR, MD, FPDS
Department Chair, Department of Dermatology
DOH-RITM
and

CLARISSE G. MENDOZA, MD, FPDS
Training Officer, Department of Dermatology
DOH-RITM
Curriculum Vitae
2 x 2 picture
Doctor of Medicine Diploma
Class Ranking
Transcript of Records
Board Rating
Certificate (of eligibility) from the Professional Regulation Commission (PRC)
Three letters of recommendation
Personal statement including hobbies, interests, talents, and reason(s) for applying in your own personal hand writing (personal statement form found on the application form)
Interested applicants may submit their requirements at the Dermatology Building of the Research Institute for Tropical Medicine, Research Drive, Alabang, Muntinlupa from 8:00 AM – 5:00 PM Monday to Friday, except Holidays or via email at [email protected]
For further inquiries, interested applicants may contact Dr. Frances Alarilla at 8809-7599 local 424 or via email at [email protected]. Applicants will be informed by text message of the date and time of the entrance exam.